Nowadays, everyone wants to go herbal and organic. The trends in using herbal products are increasing every day. People are shifting from other brands to herbal brands only. In earlier times, there were no beauty products or skincare products available which the people could apply. They were only relying on the natural ingredients which are easily available in their kitchens or around them. They search for the natural ingredients to cure many skin problems, wounds, or infections and at that time they work so well.
Turmeric is only used as an antiseptic and applied to all kinds of infections and wounds as at that time there were no antibiotics or antiseptics available there. At that time the beauty products were neem, tulsi, Aloe Vera, or turmeric, etc. the ingredients were used by most of the women as their beauty secret. But now the people are relying so much on the ready-made cosmetics which are even made of chemicals and that affects our skin later on.
These products may not have an immediate impact on the skin, but they may lead to many kinds of skin problems later. You may face skin reactions in the form of swelling, redness, itching, pimples, or marks on the face. But now most of the companies are going for herbal products in their product line. They are now using natural ingredients like Neem, tulsi, turmeric, or other natural fruits, etc in their skincare products. No scars neem face wash is also one of the best herbal face washes which are being used by so many people. It is gaining so much popularity due to its best and organic ingredients. To be ahead of your customers and to achieve and get a competitive edge over the competitors you can go for herbal products.
Those products which are specially designed with organic products are more popular and beneficial for the skin than the other artificial skincare products. These products come up with no side effects on the skin or any other part of the body. you can face the problem of skin infection in case of chemical or preservative ingredients, but you can't face infections with natural ingredients. You may have heard of the products which are made up of Aloe Vera, turmeric, neem, or tulsi. Not only the creams but now even the soaps and face wash are also available with these natural and organic ingredients. There are so many benefits of using a No Scars neem face wash as there are so many benefits of using neem.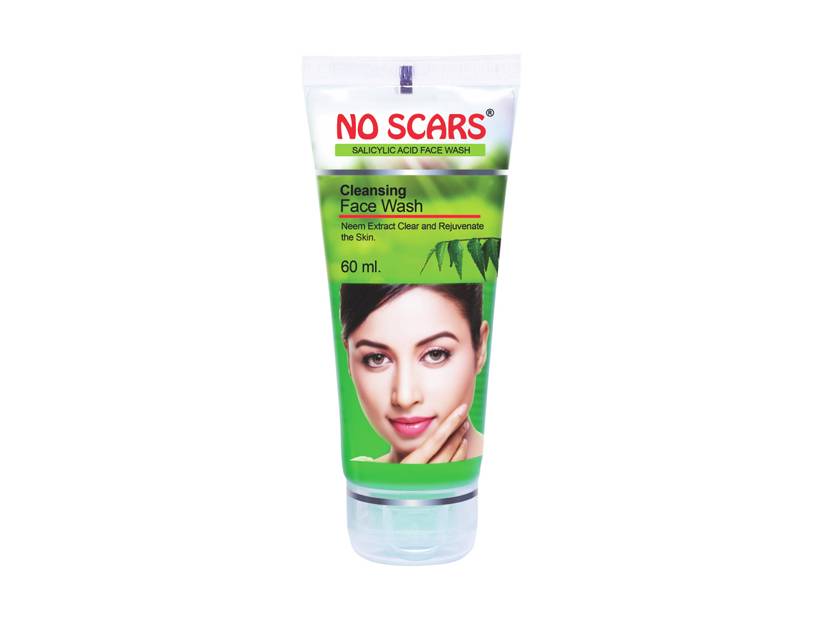 Neem is having properties that are not only good for the face but also for the hairs. This ingredient is also used in so many medicines as well as in antiseptic creams. This herb is the most popular herb than any other herb due to its numerous benefits. This is not less than a present from nature, you can use neem face wash for best skin results. Some of the main benefits provided by the neem are discussed as follows:
Remedy for many skin problems: Neem is used as the home remedy for so many skin related problems. From acne to marks it helps in preventing scars on the skin. It not only cures but it helps in preventing any kind of skin problem.
Treatment for many skin infections: Neem is not less than medicine it is being used to treat many kinds of skin infections like eczema etc. eczema is a skin infection that may lead to redness or itching on the skin. Your skin can look flaky, but neem is the solution for this skin infection. You can use creams, soaps which contain neem as an ingredient. It is also used to treat many kinds of fungal infections on the skin. Ringworm, athlete foot, jock itch, etc are the common fungal infections that can be treated with this ingredient.
Prevents and cures the problem of skin pigmentation: Skin pigmentation is also a very common skin problem seen in many people. Neem can control the production of melanin in the body which will automatically reduce skin pigmentation. You can use neem face washes or soaps or even cream to treat skin pigmentation.
Permanent treatment for the problem of acne: Acne is the most common problem heard by so many people around us. This skin problem is no more limited to only females even the males are facing the same problem. Excessive pimples on the face can be termed as acne. Acne blocked the pores of the skin due to the exertion of dust, sweat, or dirt particles in it. It may cause bumped pimples filled with some liquid. Neem is the best treatment for acne. You must prefer to only use the skincare products which contain neem as the main ingredient in it. It contains aspirin which will naturally reduce the problem of acne.
Treatment for various scars or marks on the skin: Sometimes you may have seen many kinds of marks or scars on the face or the body. These marks can be of the stubborn pimples or due to other skin problems. Even pigmentation leads to some kind of scars on the face. Neem includes all those properties which are good for the skin. It also helps in reducing the scars from the skin. You can go for the No Scars face wash or cream to treat the stubborn marks.
Moisturizing the skin: It also helps in treating dry skin. It possesses very good properties of moisture and conditioning which helps in treating excessively dry skin. People having dry skin can use this ingredient.
It contains anti-aging properties: Neem as an ingredient also possesses important properties to treat anti-aging. It even reduces the anti-aging effects on the skin. It helps in preventing wrinkles and fine lines from the skin. it protects your skin from the hard UV rays. Even now the sunscreens are having neem as their ingredients. It is having so many antioxidant properties that are beneficial for the skin.
Treating moles, warts, or bruises: It also contains antibacterial properties and is used for treating various kinds of moles on the skin. In ancient times, neem is applied to wounds or cuts. It has the power to absorb the viruses present on many skin infections or bruises etc.
You must use a face wash with neem extracts to treat all your skin problems. No Scars use neem as the main ingredient in their skincare products like in soaps, face wash or in creams, etc. these products are especially known for treating the problem of acne as well their marks on the skin. You can even use their products daily even when you are not facing any skin problem. It also prevents so many skin infections. It's all-natural ingredients make it safe to be used by almost anyone. Anyone can use their skincare products irrespective of their age or gender. After reading the number of benefits the neem is providing us we cannot deny using these skin products with the best organic products used. Don't wait, start using them now.