Every day we come across so many people who are facing so many skin problems. Everyone wants to look prettier, smarter, and confident. Everyone wants flawless skin, but due to the pollution we face, the food we eat will undoubtedly impact our skin. Everyone has a different skin type; some have dry skin, oily skin, or a mixture of both. There are so many skin cosmetics available in the market to treat various skin problems. But choosing from so many options can be a difficult task. You have to choose the right skincare product for your skin.
When we do not follow a regular skincare routine and ignore what our skin wants, we can face many skin problems. These problems can be problems of acne, wrinkles, fine lines, pigmentation, etc. No Scars is known for providing the best skincare products to people. They provide no scars soap, face wash, and face cream to treat all your skin related problems. Sometimes due to stubborn acne, you may develop scars on your face caused by the acne or pigmentation on the skin. But sometimes, the problem of scars is not only limited to acne, but we can also face many other marks on our skin, like burning marks, stretch marks, acne scars or dark circles, etc.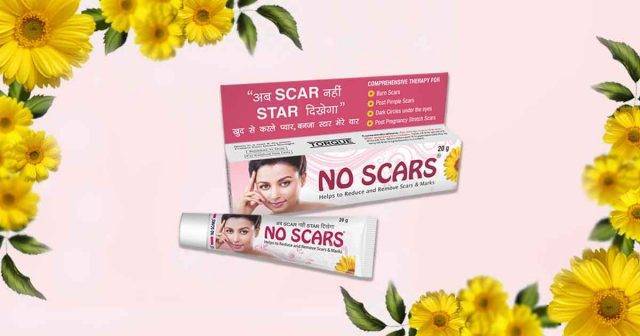 The marks on the skin do not go with time, and you need some special care to treat those marks. The best scar removal cream can be used to treat all these marks on your skin. There are different types of scars that are classified under different categories. Some of the kinds of scars are discussed as follows:
Atrophic scars: these are scars that sink into the skin. Examples of these types of scars are stretch marks on the skin due to pregnancy, marks after losing weight, pitted scars of acne, etc.

Hypertrophic scars: These kinds of scars are due to the burning, cuts, or piercings on the body, etc.
Scars can be in various shapes or colours relating to the kind of problem we face. There are many home remedies available to treat the various scars on the skin. You can follow those home remedies along with the best scar removal cream for the best results. Have a look at the various home remedies to treat scars on the skin.
Aloe Vera gel: Aloe Vera has considered the best skin medicine with lots of benefits to the skin. It helps in solving your many skin related problems. Its anti-inflammatory properties are also used to remove the various scars or marks on the skin. It enhances the new growth of the skin cells and helps in repairing the old ones. You can use Aloe Vera gel on the affected area to treat various marks. You can use fresh Aloe Vera gel for the best results. You can apply the fresh Aloe Vera gel on the scars and massage twice or thrice a day.

Tea tree oil: tea tree oil is also suitable for scars and various skin problems. Tea tree oil helps reduce the various acne scars and the surgery-related scars on your skin. You can use this along with the best scar removal cream. It also enhances the blood circulation in the scar affected area. You can mix olive oil or a few drops of water in this oil to treat various skin marks. Using this mixture, especially at night, will give more results.

Coconut oil: this oil is not less than medicine for both hairs and face. Coconut oil is full of essential properties and is full of benefits. It includes compounds, essential vitamins, and antioxidants that enhance the growth of new skin cells and treat dead skin cells. It includes many antimicrobial properties that help in treating many skin infections and marks on the skin. You can apply coconut oil directly to the affected skin. You must use it regularly for the best results.

Lemon: Lemon is an ingredient that can be found in everyone's kitchen. Lemon is full of citric acid that sometimes our skin needs to rejuvenate. Using a few drops of lemon on the skin can act as a cleanser for your skin, and you can use this on the affected area.

Apple cider vinegar: apple cider vinegar can also treat the various acne scars on the skin. You must not apply the apple cider vinegar directly to your skin. Try to mix the apple cider vinegar with water before applying it to the affected area. You can use the apple cider vinegar mixture at night and wash it off in the morning for the best results.

Vitamin E: we can get vitamin E directly from vitamin E capsules. You can use vitamin E capsules and try to extract the oil from the capsules. You can use this extracted oil on the affected area and massage it with your hands. You can use this about three times a day for the quickest results.

Honey: from ancient times, honey has been used to treat various scars on the skin. It also helps in treating wounds. You can use raw honey directly to the scar area, leave it overnight, and cover it for the best results. Baking soda can also be used to remove scars as it will help in lightening the affected area.
We have discussed the various home remedies that can be used to treat various scars on the skin, but the best thing is to use burn scar removal cream, which helps treat all the burning marks, cuts, stretch marks, and acne scars from the skin. There are many face creams available, but the No Scars face cream is considered the most effective one of all. No Scars is offering many other skincare products like soaps, face wash, face cream, etc., to prevent all the skin related problems and treat all the skin issues. No Scars Face Cream is made up of all the natural ingredients with no side effects.
This face cream is specially used to treat skin pigmentation and various scars on the skin. You can even adopt their skincare products in your daily skincare routine. They are the natural source of moisturizing for the skin and help treat acne, acne scars, burn scars, stretch marks, etc., on the skin. They use three main ingredients in their face cream, which are Hydroquinone, Tretinoin, Mometasone.
There is no hard and fast rule to use this face cream on scars. You can easily apply this cream to the scars regularly to see quicker results. For the best results soap, face wash can be used along with the face cream. It helps prevent melanin production from the skin and prevents the skin problems associated with its production, like acne. If you ask which is the best scar removal cream, most of the answers will undoubtedly be the No Scars face cream.