Every day, we start by brushing our teeth, having coffee/tea, and having breakfast. But how many of us pay any attention to your face-washing routine? Well, to achieve a younger-looking, cleaner, and more clean face, you need to adopt an excellent face-washing method. Face wash can cause skin pain to people with sensitive skin. If you don't understand how to do it properly, then your skin can be affected.
There is also an alternative strategy like making a chemical-free homemade face wash, and you can do your own based on the type of skin. But no scars neem face wash for acne is one of the best face washes that does wonders on the surface. But before choosing a suitable face wash, one has to know how to wash their face.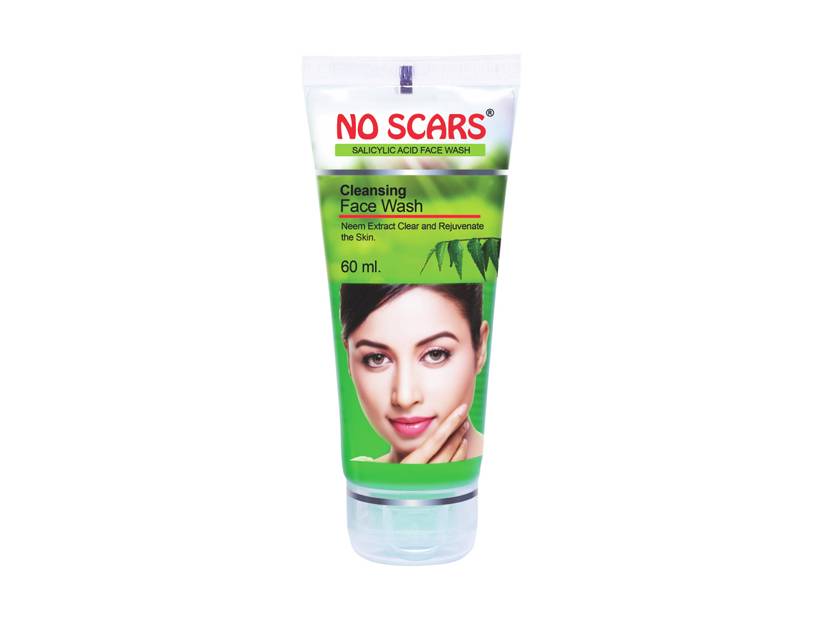 How and when to wash your face?
Clean your face at the bare minimum every night – If it comes to caring for your skin, washing your face at night is a hard and fast rule, and that remains true even if you don't wear makeup. Natural oils and sweat collect on the skin throughout the day, and we are exposed to the atmosphere, which means dirt and toxins build upon our outer layer of skin. Not removing all of this dirt and germs at the end of the day can irritate the skin, inflammation and acne breakouts.
Probably even wash your face in the morning – You may think it's all you need to wake up fresh- and clean your skin before bed, but another morning rinse is a good idea. Bacteria from your saliva and oils from your hair are quickly transferred to your face and eyes when you toss and turn at night. So, it is a must to wash your face in the morning too.
I am using the correct temperature of the bath.
Using hot water in the shower or washing your face may feel very good, but the fragile skin on your face can be affected by this. Extreme temperatures like hot, steamy showers or boiling water can cause blood vessel dilation and delicate tissue breakage. However, the hot water naturally strips the skin of the required oil barrier, which helps maintain the skin's integrity. It means that the skin can dry out more quickly and become itchier and flakier over time.
Ideally, twice a day (morning and night) and after workouts or other unnecessary sweating should be washed. Washing your face to eliminate germs more than twice a day is not a real need for people unless they are susceptible to skin infections. Not only can too much-washing lead to dry, irritated skin, but it can lead to too much oil being created paradoxically by the skin.
When you're looking for a facial cleanser, you should consider factors like the type of your skin (whether your skin is usually oily, dry, mild, or combined), if you have sensitive skin, whether you're prone to acne, and whether you have any other skin conditions. But if you don't know where to start or how to find out your skin type, check with a dermatologist to help you figure out what's going to work for you.
For any skin type, you can always use no scars except face wash. It is one of the best facewash and gives fantastic results. There are many uses of neem for skin, hair, and the overall health of the body. Neem helps combat fungal infection. Its antifungal and antibacterial properties prevent the fungi and harmful bacteria in the port. So it protects the skin and holds away diseases linked to the skin. Some of the fantastic uses of neem are,
Antifungal and antibacterial – Neem leaves are used to treat infections of fungi and bacteria. They help treat both warts and chickenpox. Either the paste is applied to the infected area, or it is made for the individual to bathe in neem water. It may also treat fungi in the foot.

Treatment of skin disease

– Neem contains several formulas that are used to treat skin problems. This is because it possesses a detoxifying ability. It is known for treating eczema and other skin infections.

Neem can heal wounds with no ugly scars left

– This also protects against septic infections. Due to its antiseptic properties, neem is widely used to treat injuries. Apply a small amount of neem oil every day to the wounds and scars. Neem contains the necessary fatty acids that also contribute to wound healing and healthy skin.

Acne relief

– Neem also has anti-inflammatory properties that decrease acne. Neem oil is thought to alleviate dry skin, itchy skin, and redness. It also prevents pimples and skin blemishes. Neem is also used as an excellent moisturizer for the skin. The fatty acids and vitamins found in it moisturize and prepare your skin by applying neem oil, making it smoother and more youthful. The neem oil vitamin E restores the damaged skin and reduces the impact of environmental changes that can result in skin damage.
The no scars face wash has salicylic acid, which does wonders on the skin and nourishes it. Using this no scars face wash with neem extracts twice daily can give you excellent results, and you can see it. Some of the benefits of using the No scars face wash with neem extracts are,
Hydration: Daily and effective skin cleaning help to preserve the skin's pH level, leaving it healthy, smooth, and youthful. As face wash helps remove dead skin cells and humidify the skin.
Exfoliation: Facewash not only gets rid of debris but also removes dead skin cells. Of natural glow, the skin is uniformly pigmented. Great for skin brightening.
It makes you look younger: removing dead skin cells helps you breathe new skin cells and make your skin look young and healthy. You can't avoid signs of ageing, but you can postpone it. So, wash your face every day and massage it.
Circulation stimulates: Washing your face and massaging it with facial wash granules helps blood pump into your face and make your skin shine. It's also useful and calming. Use a skin massage for facial wash and get new, radiant skin in an instant.
Helps the drug to penetrate the skin properly: It is essential to wash your face at night if you want your anti-ageing cream or night cream and other products to work well. A smooth face would be able to absorb healthy items with you. So, try to wash your face in the morning and at night, even though your skin looks smooth.
Clears Build-up: Every day, our skin is exposed to dust, dirt, sweat, and everything else. Therefore, face wash helps absorb grease, dirt, and other contaminants that cannot be removed by water alone. It holds the skin young and prevents acne. Any of the faces wash like no facewash scars with neem extracts.
So, these are some of the benefits of using neem face wash on the skin. It is also readily available online and is affordable for all.