Nowadays everyone is concerned with their health as well as with their looks. Everyone wants a flawless and clear face. But it is not always possible to have clear skin. Every day, we contact pollution, dust particles, or dirty hands by which we touch our face. This may cause some other skincare issues if we do not take proper care of our skin. When a baby is born, he has the softest skin, free from any skin problem, but his skin becomes more rigid and dry over time. To avoid this situation, to make your skin baby soft, you must go for the proper care of your skin.
You must know how important your skin is, and you must take care of it carefully. There are so many cosmetic products available in the market claiming to be the best skincare products. But you must choose your skin product wisely. You must get the best face wash and clear skin for you. Earlier, you have to make so much effort to maintain your skincare. It would help if you had a proper cleanser, scrub, face wash, moisturizer, etc., but now with the, No Scars face wash and soap, there is no need to use an extra cleanser or scrub on your face.
Along with these skincare products, you must also adopt a healthy lifestyle for yourself. You must adopt a healthy balanced diet that includes all the nutrients that your body needs. You must stay hydrated and drink plenty of water to avoid any skin related issues. We may hear about many skincare issues, but acne, acne scars, and blemishes are the most common skin problem that we heard about. No Scars aim at providing you with the best soap, face wash, and face cream to solve all your skin related issues. Now the question is what these soaps and face wash do for your skin. There are so many benefits of using these soaps and face wash, and they aim at making your skin clear and glowing. Have a look at the benefits that these soaps and face wash are providing: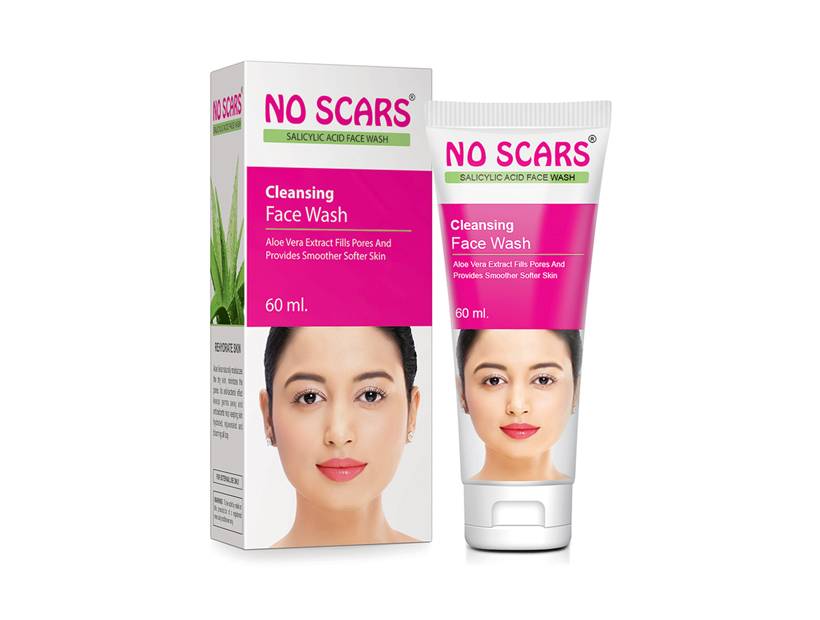 It contains citric acid:

 The skin may look dull due to the dead skin cells that accumulate on the skin. Citric acid is not only good for our body but is also suitable for our skin. It makes your skin healthier and younger. It also improves skin complexion with regular use.

Natural source of moisturizer:

 Earlier, we apply soap, and then face wash, and then a lubricant moisturizer to remove dryness from the skin. But No Scars is known for providing natural moisturizers in its products. The other soaps make the skin dry after some time. But this soap contains a natural moisturizer with all the natural ingredients like almond oil, glycerine, etc. it makes your skin softer and smoother and avoids any itchiness.

It contains anti: 

Inflammatory properties: Most medicated soaps contain anti-inflammatory properties. Antioxidants help in fighting all your skin problems and end up making your skin clear and glowing.

Helps in treating acne:

 Acne is the most common skin problem that most people face nowadays. Anyone can face this problem irrespective of their age and gender. Using medicated soaps and face washes provided by No Scars will help you to solve this problem. The reasons for the problem of acne can be many. Hormonal changes, contact with pollution or dust, less hygiene, excessive oil production, etc., can be the various reasons behind acne. But its best solution is the No Scars soap, face wash, and then its face cream, which will remove the problem of acne and then acne scars on the skin.

Solving many skin problems:

 They aim at solving your various skin problems like acne, pigmentation, dryness, blemishes, etc. The pigmentation on the skin can be caused due to acne marks on the face. The acne-prone area on the face, which lefts with the acne mark, result in skin pigmentation. But by using No Scars face wash and face cream, you can get rid of this skin problem. It will help in treating and preventing acne and solving the problem of pigmentation too.

Removing odour from the body:

 Sometimes, we may face the body odour problem due to various reasons that we are not aware of. Using medicated soaps, we can prevent this problem. This is not a life-threatening problem but makes you embarrassed in front of people. Everyone is attracted to a pleasing fragrance, and we all want to smell good. But this is not a big issue; you can use the soap with all the natural ingredients and quickly get rid of body odour.

Removing anti-ageing problems:

 No Scars face wash and soap aims at delivering so many benefits with all the natural ingredients. Various ingredients in their products, like almond oil, glycerin, Neem and Aloe Vera, etc., are already known for so many benefits for the skin. It also helps in preventing the early ageing effects on your skin. Its daily use results in clear, glowing, and rejuvenated skin free from fine lines and wrinkles. Its natural properties will help in making your skin look younger and softer.

They contain antiseptic properties:

 Very few soaps contain those natural ingredients which are beneficial for our skin and are free of chemicals. It helps in treating your common skin related problems and making your skin glow naturally.

Neem as a main ingredient:

 They have developed the special No Scars face wash with neem extracts. Neem is one of the significant Ayurvedic ingredients which almost everyone in ancient times uses. Neem is not only used for wounds etc. but also used for beauty secrets. There were no other cosmetics available for skincare, and these natural ingredients were also used for skin care. They use such ingredients to solve your skin problems like blackheads, acne scars, dry skin, etc. the 

face wash suitable for skin

 can be used regularly, and the No Scars soap and cream for the best skincare routine follow.

Helps in maintaining the pH balance of your skin:

 They are specially made up of natural ingredients that act as a good moisturizer and cleanser for your skin. It is free from chemicals and also helps in maintaining the right pH level of your skin. It evens improves your skin tone and helps in removing all the impurities and oil from your skin.