An acne breakout is one of the commonly faced skin problems of people of all ages and most adolescents and teenagers. It appears the skin follicles get clogged with naturally forming oil, sebum, or bacteria. But, it is not anything serious, but it still can be something to worry about. This is because people who are experiencing it feel embarrassed to go out before others and face a lack of self-esteem, confidence, and emotional distress. This issue can be done away with by using a good face wash.
Acne not only causes breakouts. It also leaves visible scars and marks on the affected body part that can be tough to eliminate. Several ways are present by which acne scar appearance can be improved and treat the issue altogether. Face Wash for Acne Scars from reputed brands like No Scar is a wonderful remedy to enjoy beautiful looking face and skin without the scar or dark spots.
Cleanser to treat acne-prone skin
Although several cleansers are available in the market, not all of them are designed to treat acne-prone skin. Some are known to contain just salicylic acid. Many are expensive and beyond the average person's reach, while others, even cheap, might not offer the desired results. This is where No Scar brand products make a huge mark and have become popular among people desiring to have smooth skin clear of dark spots and acne marks. The best product can be used by both men and women and is a complete system present to provide treatment for acne inside out.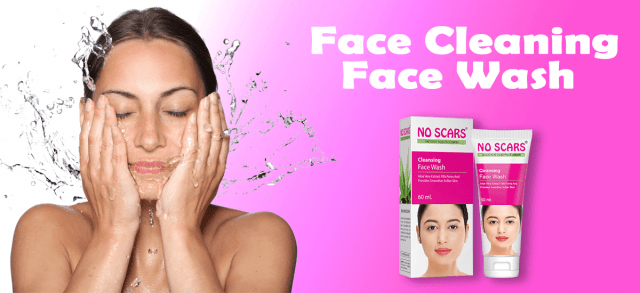 Some essential items to have spot-free skin
Facial protection cream:

 This oil-free cream moisturizes the skin, helps collagen production, enhances existing scars, and reduces redness while leaving the skin healthy, smooth, and soft.

Face wash

: It prevents future acne breakouts and fights the existing ones. It eliminates excess sebum, acne bacteria, blackheads, whiteheads, pore blockage, and blemishes. It also ensures a normal restore of pH levels and heals the skin faster.

Deep body washes:

 It is meant for the whole body. If acne or pimple develops in the body, it can be used to control the same.

Herbal supplement

: It is without a doubt that beautiful skin develops from the inside. This supplement helps to improve the inside. Being natural, it is safe and fights acne bacteria. It also flushes toxins from the body, reducing sebum overproduction, which is known to cause acne. Shiny skin is also reduced. If the person feels uncomfortable with herbal supplements, then they can use face wash and cream.

Body protection cream

 offers similar benefits to that of the face protection cream but is meant for the body and not the face.
Those serious about eliminating scars and acne spots should avail face wash and other products offered by reputed brands like No Scars. It is risk-free and entirely safe for the skin and health, and provides the best results.