Everyone dreams of having clear skin that is free of pimples and marks. Other than being ugly to look at, pimples are also quite painful. No one wants to have such a painful mess on their face, but it is under no one's control. You can't avoid having pimples totally, but you can take measures to control them. People might also feel embarrassed in front of other people when they have a face filled with big and painful pimples. Pimples also ruin the look you might have in mind for any particular function or a party.
Even though pimples are harmful and might make your face look worse than before, you should remember that they are nothing to be ashamed of. Pimples occur not only on the face but also on your back, neck, shoulders, etc. They are just the pores of our skin that have been filled with pus and bacteria and swollen up.
In most cases, it has been found that when the skin starts secreting excess amounts of sebum from the sebaceous gland, pimples are formed. Thus it is one of the significant reasons behind severe cases of acne.
Pimples and acne are not very critical conditions, and they have occurred to every person in the whole world at least once in their lifetime. When you suffer from pimples, the main problem is the marks that are left behind. These marks are pretty permanent, and they can make you look less attractive than before and reduce the charm of your face.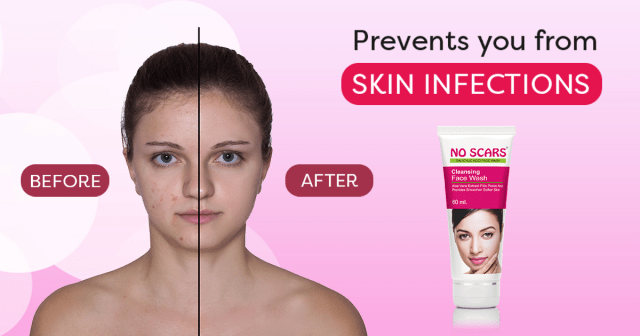 Usually, pimples appear as a pink-coloured spot or blemish on your skin. But sometimes, in more severe cases, you will also notice white-coloured pus coming out of them. This will make your face appear dull.
Generally, pimples aren't the main thing to worry about. They will dry out and disappear in a few days, but the marks they leave behind on your skin will stay for a very long time. This is the part that is most frustrating for every person. As pimple marks last on the skin for a very long time, no one wants to have them and make their skin look dull for that long period.
People are affected by severe cases of pimples depending on their skin type and also their habits. People who eat a lot of junk food or frequent places where there is a lot of pollution have pimples regularly. People who don't get an ample amount of sleep also suffer from the problem. But there are many ways you can control your pimples and prevent the condition from worsening. Your acne, pimple as well as your pimple marks will be reduced.
Even though numerous products in the market offer to remove your pimples and marks effectively, they shouldn't be your first resort. Home remedies are the best options when compared to synthetic products as they use natural ingredients. They are mighty and effective, but they also don't cause any side effects. They are more user-friendly as synthetic products might cause side effects. Even if they don't cause them at first, you might start observing them later. Thus they are not recommended as the first means of treatment.
You should avoid the products because they are made from harmful chemicals and other things which any reasonable person shouldn't use. So the best option would be to avoid them as much as possible and go with natural and homemade options.
We start having pimples as teenagers, and it continues into adulthood. When we first get pimples, we get very conscious and resort to cosmetic treatments to get rid of them. What we might not know is that this will also adversely affect your skin. We can't assume when exactly it is going to be affected, but it surely will be. In some cases, the skin can adapt to the chemicals, but the skin can't do it in most cases and thus has ugly results.
But when it comes to home remedies, you are not resorting to dangerous and harmful chemicals. It is a natural form of treatment, and thus you will experience no side effects from them. Here are a few ways to get clear skin and get rid of pimples and marks overnight:
Lemon juice
Lemon juice is known for its skin lightening properties, and thus it is an excellent ingredient for fading away those stubborn acne scars. You can directly apply lemon juice to the spots twice daily to see the marks fade away.
Sugar Scrub
This is one of the easiest methods to get rid of pimples and their marks. The sugar scrub acts as a natural exfoliating agent and removes all the dead skin cells allowing your skin to breathe. A slurry paste made from sugar, honey, and milk powder should be applied to the affected spots and then rinsed off after 20 minutes.
Baking soda
Baking soda also has excellent exfoliating properties, so naturally, it is an excellent ingredient for removing pimple marks. You need to make a paste of baking soda and water and apply it before going to bed. You need to leave it overnight and rinse it first thing in the morning. Soon all your marks will fade away.
Egg white
Egg whites are loaded with proteins, minerals, and vitamins. So they are pretty healthy for you. But in this case, they are also great for removing your pimples and their marks. You should take a fresh egg and separate the egg white from the yolk. Apply the egg white on your pimple affected skin and rinse it after 15 minutes.
Various other ingredients can quickly help eliminate pimples, such as honey, potato juice, cucumber juice, aloe vera, turmeric powder, tomatoes, etc. With the help of these ingredients, you will have clear and glowing skin in no time and look your best self.