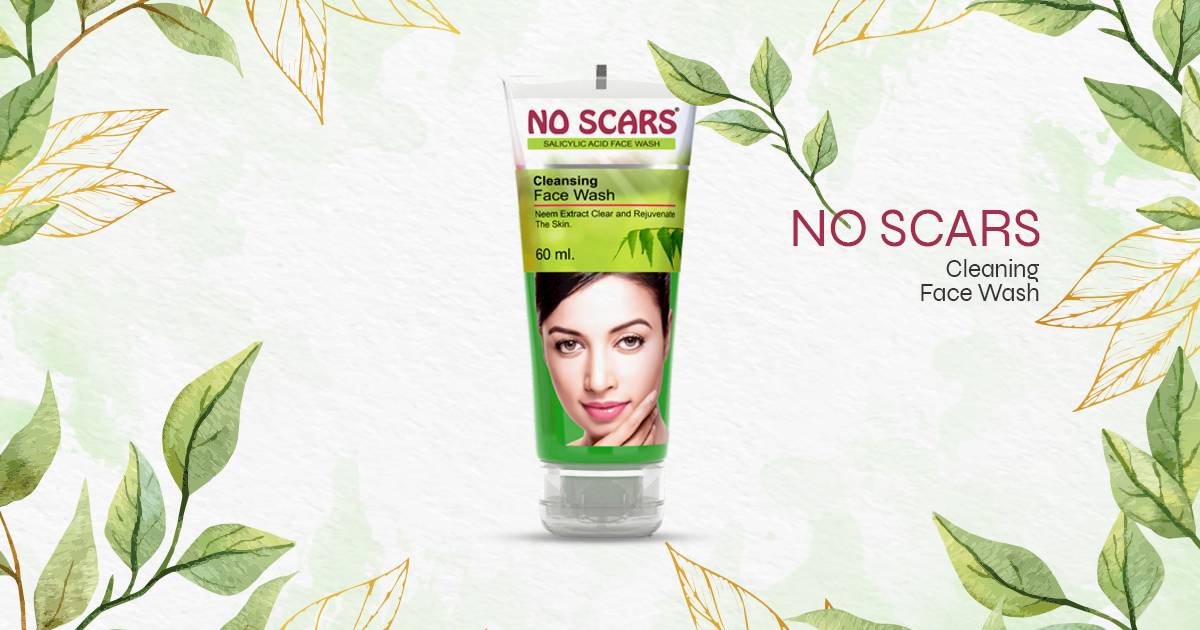 Many of you do not use anything on your face. You feel that people used to evade applying anything on their faces in the past, and their faces stayed perfect. Well, you know what, the pollution was less, and there were hardly any types of harsh chemicals in the air. But in the contemporary age, you cannot end counting the basis of pollution.
If you keep your face naked, which means you don't apply anything on your face, your face skin can get coarse, rough, and even extremely ugly. You may experience those black spots and scars on your face and the rough patches scattered over your face.
You should use a good product for your faces like neem extract face wash for scars or oily skin. No matter what type of issue your skin is facing, if there is Neem in the facewash, it will heal it in some way or the other.
Why should you use neem face wash?
You know what the parts and ingredients of the Neem tree have been chiefly used for ages as a therapeutic cure in the field of Ayurveda, Siddha, and even Unani medicines. Apart from this, Neem has been one of the chief ingredients in various natural beauty products, considering their effectiveness in nurturing your skin and hair. It heals many problems and issues. You know, since ancient times, Neem has been impressively used as an effective remedy for treating most of the issues ranging right from psoriasis to acne.
Neem, Heal your stubborn scars. 
If you experience scars for any reason, neem face wash can help heal your scar tissues and help remove scars left by extensive acnes, burns, pimples, and wounds.
Your face wash may help you in lessening your skin scars. It is the right time that you properly heal your scars.
The point is, your scar can be a result of different things. For example, maybe you applied something on your face, which didn't suit your skin and left a scar. Then there may be an instance when you fell, met an accident, or something hit your face and left an injury that healed but left its scar. Here, if you start using a face wash with Neem in it, it would ensure that your scars get weakened, and you experience smooth and stunning skin.
Neem Face Wash treats the issue of Scabies. 
Neem in the form of face wash has been extensively used as an alternative remedy or solution for treating the symptoms of Scabies. It is a condition that occurs due to the infestation of a mite, Sarcoptes scabiei, that steps into the skin to feed on blood, and even activates the symptoms of itching. Neem, however, aids in eliminating them and helps in getting rid of painful symptoms such as inflammation and decreasing skin redness, itching, and keeping the skin smooth. So, in case you feel that you might have some signs of Scabies, you must try out this facewash.
The skin problem of Eczema 
Eczema, or dermatitis, is a general inflammatory skin issue that usually produces the signs of excessive itching, skin cracking, extensive redness, weeping, and even dryness, often leading to secondary infections. The solution most folks are inclined to take when dealing with Eczema is to scratch the affected area. Whether you believe it or not, it is something that makes the condition worse, activating it to ooze and possibly blow out to other places. Since this condition is genetic, there is no complete cure for Eczema except to deal with your signs.
Neem can Fight off Acne:
Acne that is activated because of extensively oily or greasy skin can be dealt with wonderfully by Neem. Neem has an excellent oil regulating mechanism that does act as a wonder wand for those dealing with grave acne matters or issues on oily skin. It is assistive in keeping the oil and sebum-free of the pore. It is clear that if you feel that your skin is too oily, you require applying this neem face wash, and it could do wonders for you.
Yes, neem face wash for skin not simply treats your acne scars but also treats current acne. It even averts new acne and pimples from emerging. To fight acne, you need to start using a good face wash as often as possible. You can easily use No Scars neem face wash every morning and even before you hit the sack.
Neem is a good moisturizer too!
Although Neem is healing in sebum control in oily skin, it is a beautiful moisturizer for dry-skinned individuals. You can give it a try, and you could even experience a significant difference in your face. The point is Neem works for different people with different skins differently.
Antiseptic
You know what your skin may not be externally bruised, but it indeed requires continuous care and healing from the varied external factors and environment. Neem work as an excellent healing ointment. Neem has antiseptic properties that enable your skin to get healthy and supple.
Anti-Inflammatory Instrument 
Recurrent skin infections incline to cellular damage. It is something that deteriorates your skin cells over time. The anti-microbial and anti-inflammatory properties of this charming Neem helps provide a natural guard and aid with the skin recuperate from day to day exposure to pollution.
Crucial things you should consider before buying facewash 
There are so many essential things that you would want to consider before you purchase a neem face wash. These things can be like:
It would help if you always chose a neem face wash belonging to a well-reputed brand, such as No Scars.

Then you must always read the specifications of the product before you choose it. Since Neem is excellent for you, you can ensure that you choose a face wash that has Neem fighting your specific needs. For example, Neem works best for oily skin too and dry skin too.

If you think that the costlier the neem face wash, the more beneficial it will be, then you are wrong. It is all about the purity and effectiveness of the product. It is not necessarily true that expensive products will heal you better.
Use Face Wash Every Day for Best Results 
You must note that having a face wash is useless if you are not using it regularly. You must ensure that you use your face wash every day, that too two times for sure. Make sure that before you start your day, you wash your face with a neem face wash to ensure that all the extra oiliness of the night cleans up. In the morning, you wake up with an oily face. And similarly, ensure that you wash your face with neem face wash at night too before you go to bed with your tired and germs filled face.
Conclusion 
To sum up, having a good product like neem face wash for oily skin can be a game-changer for your skin. Start using a No Scars neem face wash, and you will feel the difference in your skin within a few days.