We have become so modern in terms of everything as technology has overtaken things and amazed us. But still, we believe in ayurvedic things or natural treatments for the ailments that we face. Everything can change, but one thing that will remain the same is the natural herbs or remedies that are always helpful for the human body in all ways. There are many medicinal herbs about which you may have heard many a time.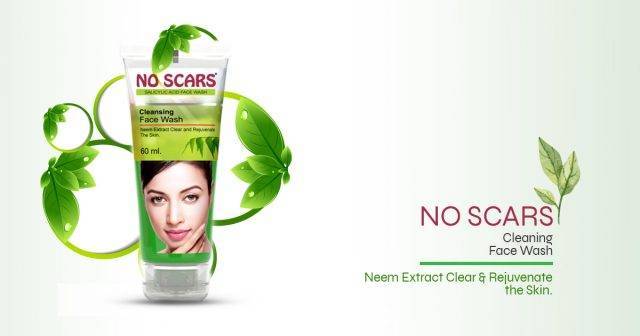 Those medicinal herbs are even used in medicines, beauty care products, and syrups, etc. This means they have been used for multiple purposes. The neem is one of those herbs that is so magical for us. It possesses so many anti properties that make it suitable for the majority of the problems that we face. From anti-viral to anti-bacterial, it includes everything. Every part of this magical herb is a wonder, including its leaves, flowers, seed, etc. But nowadays, very few skincare products are available that include neem as an active ingredient. But No Scars still understands how good neem is for our skin, and that is why No Scars face wash with the neem extracts comes up for our skin. 
You don't have to search for the neem or its extracts separately to use them on your skin; the face wash will be well enough for your skin. Every part of the neem tree is helpful for our body, skin, hair, and health. This is what you should know:
Neem leaves: The neem leaves are not less than wonder and include around one thirty active compounds. This makes it super busy and magical to use. It is also helpful in heat generation in the body and is used for many purposes. 

Neem tree: The whole of the neem tree is good, and it is considered the best medicinal tree. It is non-toxic, so it is not harmful to the various insects, bees, etc. 

Neem juice: The neem juice is extracted from the neem plant only. This juice can help you to make your digestion process a bit smoother. It also boosts metabolism. It is also helpful in burning fat, and that is why used by people who are losing weight. 

Neem powder: The neem powder is also extracted from the neem plant and can be used both ways internally and externally for your body.
The various benefits and uses of the neem that we must know are:
Treating skin diseases: There are many skin-related diseases that multiple factors can cause. There are many skin creams available that claim to be the best, but they are not. It would be best to give your skin natural care by using the No Scars face wash with neem extracts to fight against those skin diseases. 

Giving softer skin: The neem is also good for your skin as it helps you keep your skin smoother than ever. The natural herb provides the required natural nourishment to your skin and makes it super supple and soft. 

Helpful in destroying the cancer cells: Our body may have the cancer cells in number within us. But neem is used to destroy those cancer cells and avoid the risk of cancer. It will limit their number and eliminate the chance that they can create. 

Destroying the bacteria: Our body consists of good and bad bacteria, which can harm us. There are many ill effects that they can cause in our bodies. As the neem possesses anti-bacterial properties, it can destroy harmful bacteria. Good bacteria are helpful in the digestion process. The bad bacteria or harmful bacteria can make the energy inside your body fight against it. If your body continuously fights against them as if they are more in number, you may feel low all day. But neem is helpful in it. 

Purifying your body and skin: The neem also acts as a natural purifier for your body and skin. You might be thinking about how it can cleanse your skin; when the lousy toxin from the body is removed, it automatically makes your skin glows naturally. It is essential to have a toxin-free body, and skin and neem are helpful in this. No Scars face wash helps your skin to recover its hydration and look healthy and glowing. 

Anti-ageing properties: The neem also includes anti-ageing properties, which is why it is suitable for your skin. It can delay the signs of ageing like wrinkles, fine lines, dull skin, etc. It can reduce the anti-ageing symptoms and can make your skin look youthful. Start using the No Scars soap and face wash with neem to avoid the ageing signs in the initial stages only. 

Neem for dandruff: This medicinal herb is so magical that it also treats the dandruff problem. The anti-dandruff properties are present in the neem that can help you get rid of the dandruff problem. 

For healthier hairs: The neem can also be used to keep your hair healthy and nourished. It recovers the natural oil in your hair and makes them stronger and thicker. When there were no conditioners or shampoos available, the ancient women used neem with other herbs for their hair. 

Reducing acne: We all know that acne is the most common yet irritating skin issue people face. No matter boy or girl, everyone is suffering from acne. The reasons behind this can be many and different for all, but the solution to this is the one. No Scars face wash with neem extracts is suitable for your acne-prone skin. The neem has anti-acne properties and is known to reduce the problem of acne. That is why if you are suffering from acne, then you must try this face wash. You can also use No Scars soap as it is also made from natural ingredients good for your skin. 

To lighten scars: If you want to get rid of acne or other marks on your skin, you must try No Scars face wash with neem. Neem is good for lightening the scars on the skin, and that is why you can use this face wash. 

Boosting collagen production: Our skin must produce collagen naturally, and neem is the natural collagen booster for our skin. It can help your skin make it naturally.
So, these are the known uses and benefits of neem that everyone must know. Now, you don't have to search for the neem leaves, powder, juice, etc., separately as all the benefits of these parts are now found in the No Scars face wash. You can add their products to your everyday skincare regime so that you can say goodbye to the various skin issues that might be irritating you for longer. Keep your skin healthy, clear, hydrated, and free from pimples and marks using a face wash with neem extracts by No Scars. You can easily buy this product online as well as offline mode.