Scarring is a result of the biological process of skin and tissue wound healing. Meaning, scarring is a normal part of the body's healing process. Except for minor wounds, most wounds result in some scarring.
Forming of scars-
When the dermis, one of the skin's deeper layers, receives damage, scars develop. To repair the damage, the body creates new collagen fibres, which results in scarring. The scar tissue is different in quality and texture from the surrounding tissues. It's only after a wound has healed completely, scar tissue forms.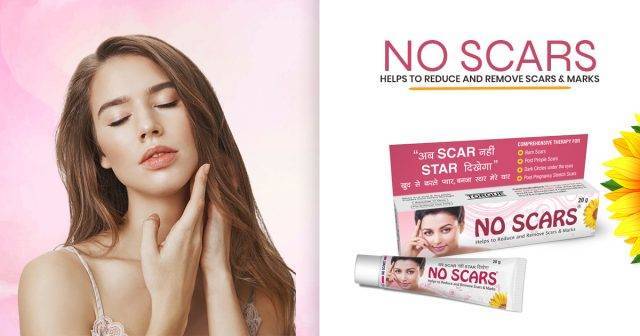 Different types of scars exist. Most scars are pale and flat. Scars that are too thick can become raised if the body produces a lot of collagen. These scars are more common among younger people and those with darker skin tones. Some scars appear as depressions on the skin. This type of scarring happens when the underlying structures that support the skin (for instance, fat and muscle) are destroyed. This can happen to surgical scars as well as scars from acne. Some scars look like stretched skin. These scars occur when the skin is stretched rapidly, such as during growth spurts and pregnancy. 
Treatment of scars-
Scars can't be removed entirely, but they can be made to look better. There're several ways to improve the appearance of scars:
Topical treatments- Creams, lotions, and other skincare products can be used as a fantastic scar treatment.

Surgeries- Surgery will not permanently remove scarring, but it can alter the scar's appearance or reduce its visibility. 

Steroid injections- The use of steroids to flatten scars may be helpful. 

Radiotherapy- This is low-dose, superficial radiotherapy that can be used to prevent recurrence or hypertrophic scarring. Because of the potential for long-term side effects, this treatment should only be used in extreme cases.

Dermabrasion- This involves the use of special equipment to remove the skin's surface. Dermabrasion can be used to blend in scarring that is raised or depressed.

Microdermabrasion- It is a less invasive type of dermabrasion and is very useful for superficial scarring.

Laser resurfacing is similar to dermabrasion, but it uses lasers to remove the skin's surface layers. The newer lasers can achieve subtler results, as they only target the collagen in the dermis and not the upper skin layers. This technology is more efficient than traditional laser resurfacing or dermabrasion which can take longer to recover.
Although all of these treatments are effective, one that everyone can use in the topical treatment. And that is why this is the best treatment for scarring on your face.
How to treat skin scars?
Your face is one of the essential parts of your body. It is an integral part of who you are, and it's your face that people first see when they meet you.
Scars on other body parts may be acceptable, but facial scars are not often considered attractive. A scar on your face can negatively impact your self-esteem and your perception of yourself. Because the face is the most exposed part of your body, it can be difficult to protect it after an injury. This increases the likelihood of scarring. These are some tips that will help reduce scarring on your face.
Taking care of your facial skin for scar reduction-
Your face is unique. It reflects your emotions and expressions. And that is why your face bears particular importance. Note that your facial skin is the most exposed part of your body.
It is exposed to damaging elements such as sun, pollution, and humidity, and since your face skin is thinner than the rest of your body, it receives more harm. It also has more oil glands and hair follicles than the rest of your skin. That is why you'd take extra care of your face, regardless of whether your skin is clear or has scars.
Facial skincare can decrease scarring-
Take care of your skin consistently. This is excellent advice and will help you keep your face healthy and radiant. Remember that only keeping the skin healthy can help reduce scarring after a surgery or injury.
If you've suffered an injury to your face or any other body part, it is essential that you immediately treat the wound. If the damage is on the face, you may need to cover your face with a dressing. First aid treatments and dressings can be uncomfortable or painful, but they are necessary to protect the skin and limit scarring.
Are facial scars different from other scars?
Facial scars can be treated in the same way as other scars. There are three types of scarring: 
hypertrophic (keloid), atrophic, and keloid. The first two types are caused by excessive collagen production, usually due to surgery or burns. The last type is due to a lack of collagen production, which is typical for acne scars.
What can you do to reduce scarring?
It's crucial to keep your skin hydrated after wound healing. Scars can develop if the skin isn't properly moisturized. After the wound heals, choose the best protection for your skin. This includes moisturizing agents like creams and lotions. Massage your scar gently and thoroughly during application. This will make it less noticeable over time.
If you wonder which product to use, don't shop for something unless and until you're sure of its effects on your skin. There are products explicitly meant for scar reduction which will be able to help you. But before picking one, it's essential to figure out which one would be most suitable for your skin. Some come with unique skin protection formulas and active ingredients that reduce scar marks considerably. But then, just because a product looks promising doesn't mean you should buy it. Check if it is a registered company and has the right to create products meant for skin care. Other products are more general-purpose in nature. They generally come with unique hydrating properties, which make your scars get lightened over time.
When you step outside and face the sun, your skin gets tanned. But scar marks are different; they get burnt instead. And that is why you may choose to use a product with sun protection if you think that would be a more suitable option for you. But then, you can also use any cream or lotion meant for scar reduction and then use sunscreen over it for sun protection first. Either way, you will stay protected from the harmful rays of the sun.
We tend to put a lot of effort into making scars disappear, but we don't generally see results quickly. That's because scar marks are incredibly stubborn and take time to lighten. And that is why no matter which cream or lotion you use, you shouldn't be impatient to see the results.
Although there are many scar reduction products on the market, No Scars is one of the most reliable options you can choose.
No Scar is a cream that can remove scarring from the skin. This cream not only clears your skin but also gives you a healthy glow. You will see a glowing complexion with regular use of No Scars creams and other products.
No Scar is a cream that also reduces pigmentation. It contains active ingredients like Hydroquinone and Tretinoin. They work together to provide anti-inflammatory benefits, prevent melanin production, and help with acne.