Our face is one part of the body that is constantly exposed to pollution, dirt, and dust all day long. Several allergens and bacteria present in the air cling to your face. It would help if you kept your face clean at all times by using the best scar reducing face wash. Regular cleaning and washing your face with a good cleanser will give you clean and beautiful skin. A good face wash will help your skin stay free from dirt, oil, and grime from your skin and keep it soft, supple, and hydrated. Many times, dirt gets accumulated in the skin pores. If these pores remain unclogged, it might give you an ugly appearance and cause skin problems.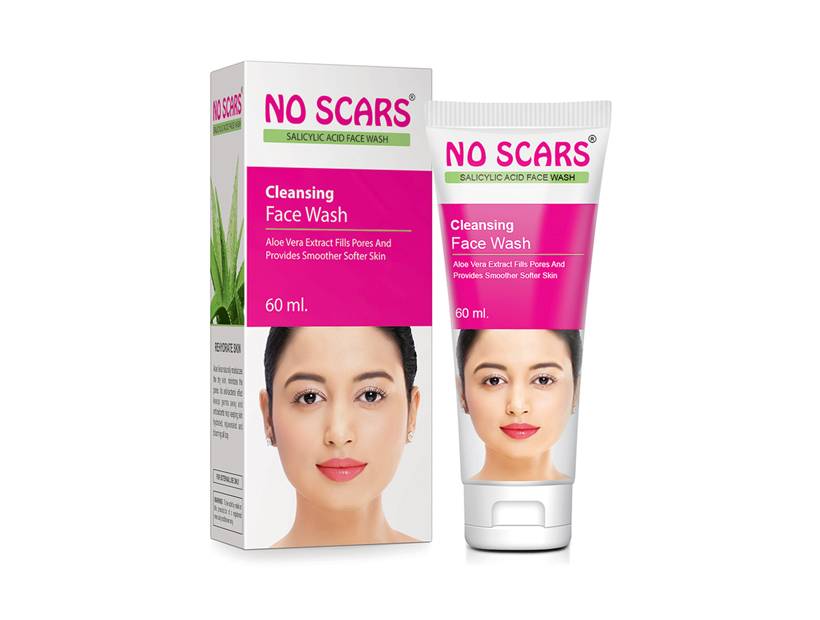 An excellent facial cleanser with no scars facewash benefits helps the pores to remain open and free from unwanted debris. It also lets sebum reach the skin surface naturally, thereby reducing the chances of acne. For all the reasons above, we conclude that choosing a suitable face wash is very important. Washing your face with clean water free from contaminants will make it more effective in keeping your facial skin clean. We list below fourteen unique tips to help you find the best face wash according to your skin type.
Know your skin type – Not all cleaners are suitable for all types of skin. The ingredients in the face wash work differently in different skin types. Hence, the first thing that you must do before buying a facewash is to identify your skin type. This is essential because if you choose a face wash that is not compatible with your skin type, it can cause skin problems like eruptions, excess dryness, itchiness, or inflammation. A typical skin type is well balanced in its moisture and oil content. Oily skin is more prone to acne and other skin diseases. Even after washing your face, oily skin becomes greasy in no time. Dry skin has very little oil and moisture content, and as such, it is more prone to develop flakes. When some parts of the skin are dry, and some are oily, this is called a combination skin type. You will buy a face wash that is suitable for your skin type.

Choose a moisturizing cleanser for dry skin – A dry skin needs a face wash packed with fruit nutrients and essential and natural oils. These ingredients nourish, moisturize, and keep the facial skin soft and supple. Ingredients like coconut oil and lavender oil moisturize the skin well and prevent flake formation on dry skin.

Know the cleanser consistencies – The consistency of each face wash is different. The texture of some is thick and creamy, while others are thin and clear. The consistency of the face wash is a big thing to keep in mind before buying a cleanser, as it determines the skin that it is best suited for. Thick cleansers are suitable for dry skin types, while gel cleansers are ideal for oily skin types.

Do not use harsh cleansers – You must not use cleansers that are harsh on the skin. A face wash that leaves your skin completely dry can be harmful when used for a long time. The quality of your skin worsens by using harsh chemical-based facial cleansers as they have alkaline properties. Moreover, many cleansers, which are made for use on dry skin, tend to leave an oily layer on the skin's surface, which can cause several skin problems.

Choose a cleanser, which works as an exfoliator – Regular exfoliating is necessary to remove the dead skin cells from your face. However, if the exfoliant is harsh, you must avoid using it daily. Instead, choose a face wash with mild and gentle exfoliants like peach pits that can effectively remove the dead skin cells and give your face a glow and shine. It also promotes blood circulation, which gives extra shine to your face.

Use unscented cleanser for sensitive skin – Some people want a cleanser with fragrances. It is recommended to use a face wash devoid of fragrances as most facial cleansers use chemical-based scents, which can cause allergy or skin irritation. If you have sensitive skin, a herbal face wash is best suitable for you.

Keep a record of cleansers used – It is best to maintain a diary for the types of cleansers used, their effectiveness, and ineffectiveness. This will help you in understanding which faces wash is best for your skin type. Your task of buying a facewash becomes easier when you know what type of face wash is effective on your skin.

Seek advice from friends – Ask your friends who have similar skin types as yours about the facewash they use. Surveying this will help you understand the ingredients and effectiveness of different cleansers for your skin type. This will help you in your search for an ideal cleanser.

Check reviews online – Every new face wash introduced in the market comes with its share of reviews on the internet. Check the reviews and compare the different cleansers. Visit good and renowned websites to know more about the cleansers before opting to buy one.

Use a toner alongside the facewash- once you have used a face wash to clean your face, you must add a toner to your daily skin routine. A facial toner closes the skin pores and thus prevents pimple formation even on dry skin. Use an alcohol-based toner for dry skin as it is gentle and hydrating.

Do not overdo cleansing – Cleansing and massaging your face seem rejuvenating but overdoing it can also cause skin irritation. Spending a long time cleansing can make your skin sensitive. Cleansing for a very long time also dries out the skin thoroughly. So, limit the time taken to cleanse your face.

Choose a cleanser based on your skin problem – Facial cleansers are made to tackle specific skin problems. Besides cleaning, they also effectively help treat skin issues like acne, scars, blemishes, etc. The label on the face wash often specifies its function. Therefore, when you choose a cleanser, you must choose one that would tackle your particular skin problem and suit your skin type.

Refrain from using sulfate-based cleansers – Whatever your skin type may be, stay away from using cleansers that contain sulfates and synthetic detergents. These form lather when mixed in water, which removes the natural oils from the skin leaving open pores and susceptible to acne.

Test the cleanser – A facial cleanser that does not suit your skin type may lead to irritation, inflammation, or even allergy to the skin. Hence, before buying one, you must test the product by buying the smallest tube first and using it for at least a week. This will help you know if the face wash is suitable for your skin type.
The above tips will help you in buying the perfect face wash. An excellent facial cleanser shows results on your face soon. Your skin will look not only clean and clear but also remain healthy and have a glow on it.